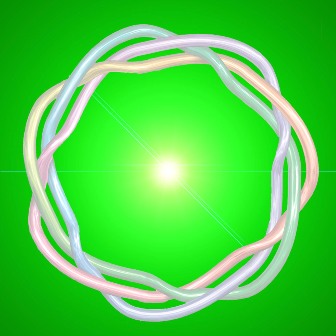 The Holophanic Loop Logic
The subject matter of conventional logic is valid or invalid reasoning related to true and false statements. This logic says nothing about the world, it cannot say if something is really true or not; it can only say, for example, that if the premises are true, then the conclusion must also be true. To illustrate this point, we could say,
1. "All the heavenly bodies are made of green cheese."

2. "The moon is a heavenly body."
The valid inference from the previous two premises will be:
In logical terms, sentence 3 is true.
The Holophanic Loop Logic claims to be the fundament of any and every existence. How is that possible? Anything that has meaning, anything that we can define, the variety that we can perceive, is "significance" whereas the "structure" of any and all significance is the isomorphic logical structure, the Holophanic Loop Logic, which is the process of definition. Whereas what has been considered to be truth or fallacy always relates to significance, structure relates to the method that defines something to be true or false. This logic relates to how anything is being defined and necessarily including the shunned indefinite that conventional logic tried so hard to avoid (unsuccessfully).
Can the Loop Logic state an absolute truth? No. But the Loop Logic can show why such a "creature" cannot exist.
Can the loop logic explain paradoxes? Yes. Understanding the dynamics of paradoxes is of paramount importance in comprehending how the Loop Logic works. Whereas conventional logic relates to the inherent inconsistency of paradoxes by considering two opposing and mutually exclusive significances that coexist in a paradox, the Loop Logic utilizes the dynamic creative core that is the essence of paradoxes and of existence.
Can the Loop Logic explain meaning? Is meaning inferred by the Loop Logic? Does the Loop Logic affect our lives? Yes. The structure of the birth of meaning is the process of definition, which is the act of perception. Holophany does not preach truth, does not debate faith - whether one faith is better, truer than another, whether one political view is more right than another - but instead focuses on how any faith, any belief, any perception can emerge. It does not say what is right or wrong, but rather, which reasoning, which dynamic structure stabilizes into this or that mind-set. This is why the Holophanic Loop Logic is such a powerful tool: it provides the means of choice empowering the individual to choose (according to one's own personal taste) which beliefs to hold, which realities to experience instead of being thrown into the pit of blind faith, or being helplessly bounced between authoritative figures. By utilizing the tools whereby we can understand how we perceive, how we think, we can change what we think, perceive and experience.